Moving to Cincinnati?
Are you moving to the Cincinnati, Ohio area and need a pest control professional to keep the pests out your home? Perhaps you are moving to the area and want to start out pest free. We at High Rock Pest Solutions are dedicated to helping make that transition more smoothly for you.
Choosing a Pest Control Compnay
Many people utilize pest control professionals to help keep the insects and other pests out of their homes. When moving to a new location, however, they often must search for a new pest management professional because their former professional was a local, perhaps family-owned, company that does not service the area in which they have moved. Your search ends here!
Since many homeowners prefer to employ small, local pest control companies to service their homes, they look for new providers when they move. If you are moving to the Cincinnati, Ohio area, High Rock Pest Solutions is the local, family-owned company for you!
What Cincinnati Has to Offer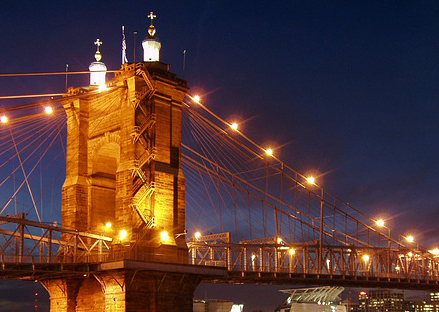 Cincinnati has much to offer: its great selection of the arts, including plays, musicals, the symphony and pops orchestras. Downtown, Cincinnati prides itself on the famous Fountain Square, the Banks, the Serpentine Wall, and a revitalized Over The Rhine area.
Just across the river in Newport Kentucky is Newport on the Ley, featuring restaurants such as The Haufbrau House, Mitchell's and many others. The Newport Aquarium is perhaps the most popular destination.
The Cincinnati Zoo and the Cincinnati Botanical Gardens are among popular destinations. In the suburbs, there are wineries and of course, King's Island for summer fun.
By way of sports, there is the Cincinnati Bengals, Reds, and Cyclones. The University of Cincinnati Bearcats and Xavier University are among the many college sports options in the area as well.
Cincinnati offers many different cuisine/dining options. From anything from our Cincinnati Chili to Jeff Ruby's Steakhouse, the Queen City offers many different cuisine options, whether it's German, Mexican, Greek, American, Oriental and more.
Cincinnati Pests
Unfortunately, as great as Cincinnati Ohio can be, the area offers an array of pests that can infest homes and businesses. Bed bugs have been a problem in Cincinnati for over a decade; at one time, bed bugs were considered an epidemic in Cincinnati. Fortunately, bed bugs have been in the news less these days.
Subterranean termites, for example, swarm in the Spring but are active all year round. They invade homes from beneath the soil, often entering structures undetected. While the eastern subterranean termite is the only termite causing damage to homes in the Greater Cincinnati area, they often go undetected for long periods of time, causing significant damage before they are found.
Similarly, carpenter ants damage structures by carving out galleries in wood, mostly in moist wood in and around the home. They work year-round as well and are often found after significant damage has occurred.
Cockroaches, mice, and rats are among also among the most common pests in the Cincinnati area. In the warm winter months, wasps and hornets become more of a problem. As winter approaches, insects such as stink bugs and lady Asian beetles enter the home, searching for a warm place to overwinter.
The High Rock Solution
High Rock Pest Solutions wants you to enjoy Cincinnati! We want your tenure in the Queen City to be a great experience for you. Our role in helping to accomplish this is to take care of your pest needs, freeing up your time to experience Cincinnati. Therefore, relax and enjoy the Queen City and let High Rock worry about your pest control needs.
We offer a year-round program designed to both rid and prevent pests from entering your home. Satisfied customers enjoy personalized service and can call High Rock should they have pest issues between visits. There is no charge for these return visits. Certain restrictions apply, of course, so call High Rock Pest Solutions to learn more about our programs.
Additionally, we offer inspections of your home or business to assess your pest control needs. Some inspections are free while some come at a low cost. Either way, we offer honest, consultative inspections of the home or business, with no obligation, no high-pressure sales tactics.
Welcome to Cincinnati, and welcome to High Rock Pest Solutions!